Latest Reviews
June 23, 2011
If you are currently practicing design and are tired of using the same three or four techniques for the extraction, organization and presentation of material pertaining to your projects this book is worth having on your shelf. I know of one in our midst who has successfully used several of these techniques on a recent project. If you are looking for a higher-level approach to your design conundrum you won't likely find it here.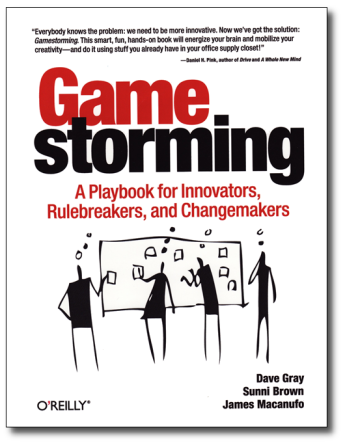 Gamestorming
A Playbook for Innovators, Rulebreakers, and Changemakers
by: Dave Gray, Sunni Brown, James Macanufo
Paperback: 288 pages… READ MORE »
Latest NewsResource Links
February 3, 2016
Visual Analytics 101
Loving HCI work but looking for something new? Come and see if the world of visual analytics will keep you challenged.
We invite HCI researchers and practitioners to join us to learn about an exciting domain. Visual analytics encompasses data, algorithms, interactive interfaces and sense-making help. Not only are there interfaces to design and evaluate but we have challenges in obtaining requirements, determining metrics for evaluating the utility of the software and constructing evaluations. We work in domains in the sciences, law enforcement, intelligence analysis, health, and finance to name a few. The course will be taught by Dr. Jean Scholtz, Russ Burtner, and Kristin Cook all from the Pacific Northwest National Laboratory in 2 80 minute sessions Tuesday AM May 10th. Note that CHI 2016 is just down the road in San Jose.
Dr. Jean Scholtz, an original CHIFOO member and founder from 1991, is one of the presenter/teachers for this course! Sign up today to get the early bird registration price!
READ MORE »
Latest Commentary
February 4, 2016
Cyberdegrees.org recently finished a new website for students on the topic of cyber security. With many high-profile hacks grabbing national headlines there has been an increased interest in the field from both the government and students. Despite this growing interest, cyberdegrees.org found there weren't many online resources discussing cyber security degree programs, so we developed our own - CyberDegrees.org.
Here are a few features:
- A full directory of cyber security degrees, from associate's degrees all the way to Ph.D programs
- Detailed looks into 20 careers related to cyber security, including job responsibilities, requirements, and growth opportunities
- Tons of in-depth resources, including our complete guide to government security clearances (what they are, why they're given, and how to earn them)
We're listed as a resource by the Department of Homeland Security's National Initiative for Cybersecurity Careers and Studies and the Society of American Military Engineers, as well as universities including Boston University and the University of Pittsburgh, among others.
READ MORE »