Latest Reviews
June 23, 2011
If you are currently practicing design and are tired of using the same three or four techniques for the extraction, organization and presentation of material pertaining to your projects this book is worth having on your shelf. I know of one in our midst who has successfully used several of these techniques on a recent project. If you are looking for a higher-level approach to your design conundrum you won't likely find it here.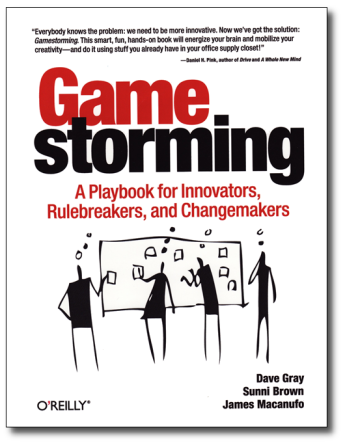 Gamestorming
A Playbook for Innovators, Rulebreakers, and Changemakers
by: Dave Gray, Sunni Brown, James Macanufo
Paperback: 288 pages… READ MORE »
Latest News
October 8, 2015
Call for Speakers!
CHIFOO's 2016 Speaker Series, Bounded Irrationality: Supporting Users and Creating Communities, invites researchers, designers, and developers to have conversations about stories of projects and challenges wherein a rational, user-centered approach yields results that seem less-than-rational.
Designers are often told the users seek easy answers which are arrived at rationally. Said users are bound by predictable, limited amounts of time, knowledge and interest. They are bound and are understood by bounded rationality. The influence of psychologists and economists has trained us to frame solutions with this precept. Bounded rationality belies the experiences of delight and frustration in users and, perhaps, gives designers a little too much credit for knowing the user.
Design is about solving problems. Designers and developers create would-be solutions with the best of intentions. They try to help users be productive, connect, and learn in a secure online environment. Google and Amazon haven't always delivered the best results for users despite creative think-tanks armed with the latest gadgetry. Our Fitbits haven't exactly helped us become Olympic-hopefuls. Governments try to provide high-tech security for more citizens,… READ MORE »
Latest Commentary
November 11, 2015
The website is a comprehensive search engine designed for students who are interested in learning more about CS and CIS programs around the country..
It's a resource for people who are just getting into the field which gives breakdowns of cost, demographic makeup, student-to-faculty ratios, and retention rates for hundreds of CS programs across the US.
You can see the site here: http://computersciencedegrees.org/
READ MORE »